Didi Lehnhausen is a visual artist based in Amsterdam (NL) working with photographic material, film, audio, drawings, texts, ceramics and textile.
Projects 2020-2016︎︎︎
We don't wear long dresses when we work

2020, installation, textile, film, ceramics

Window exhibition at Plan B project space presenting the textile installation Eleven spells, 22 ceramic snakes and the film Tempat Kerja

"During a residency at the batik workshop Batik Leksa Ganesha in Yogyakarta, Indonesia in 2019, Lehnhausen researched the divination of techniques. From this perspective she approached the workshop as a space to create, learning the specific rules and rituals of the batik technique and following the routines of the workshop. In search for the meaning of all patterns, forms and color, she found their definition is as fluid as the changing of time."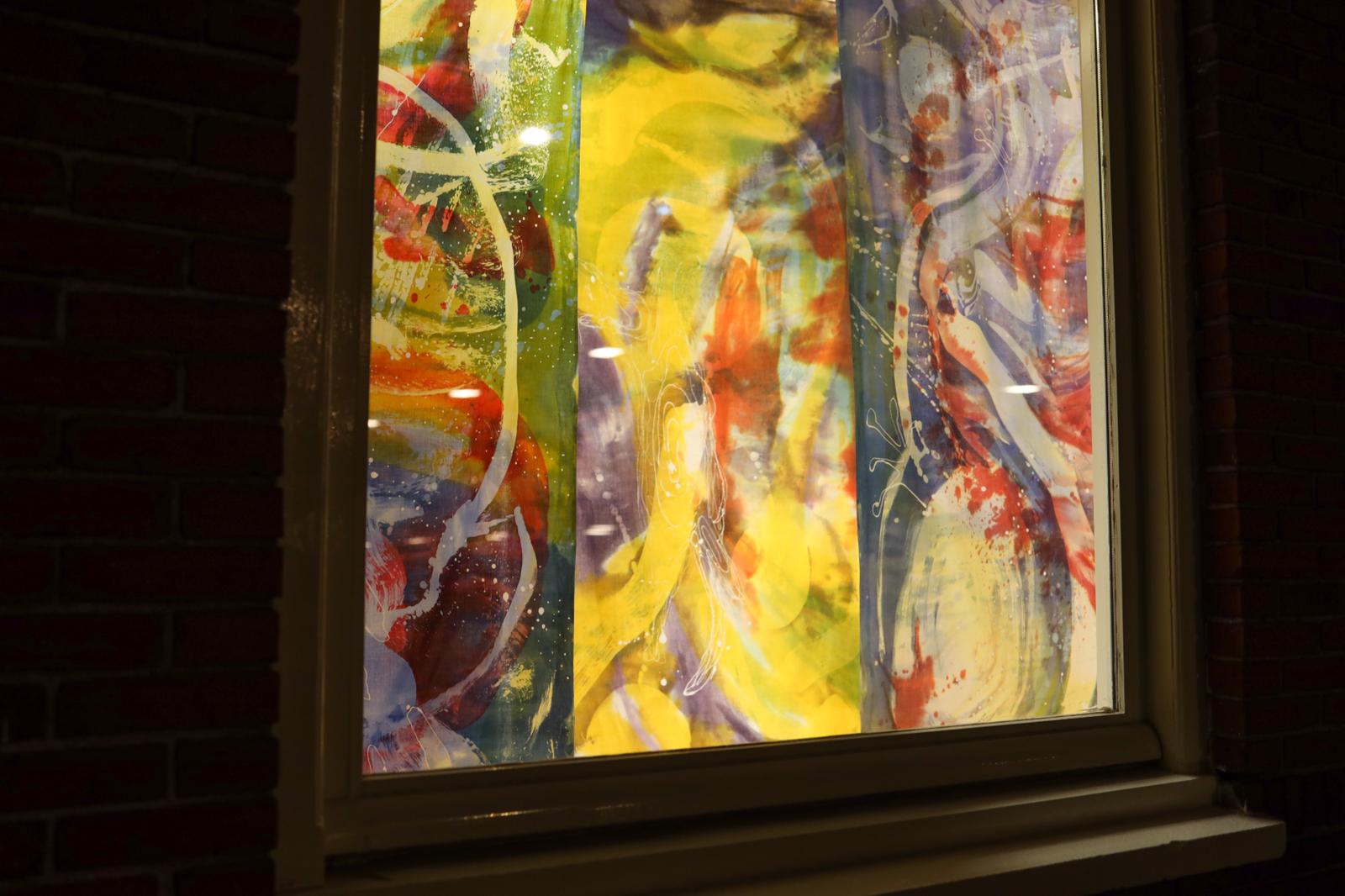 Poster by Our Polite Society
We don't wear long dresses when we work: the hand-out

2020, drawing, risograph

Hand-out that accompanied the exhibition "We don't wear long dresses when we work". Drawings by Didi Lehnhausen and printed by Terry Bleu publishing.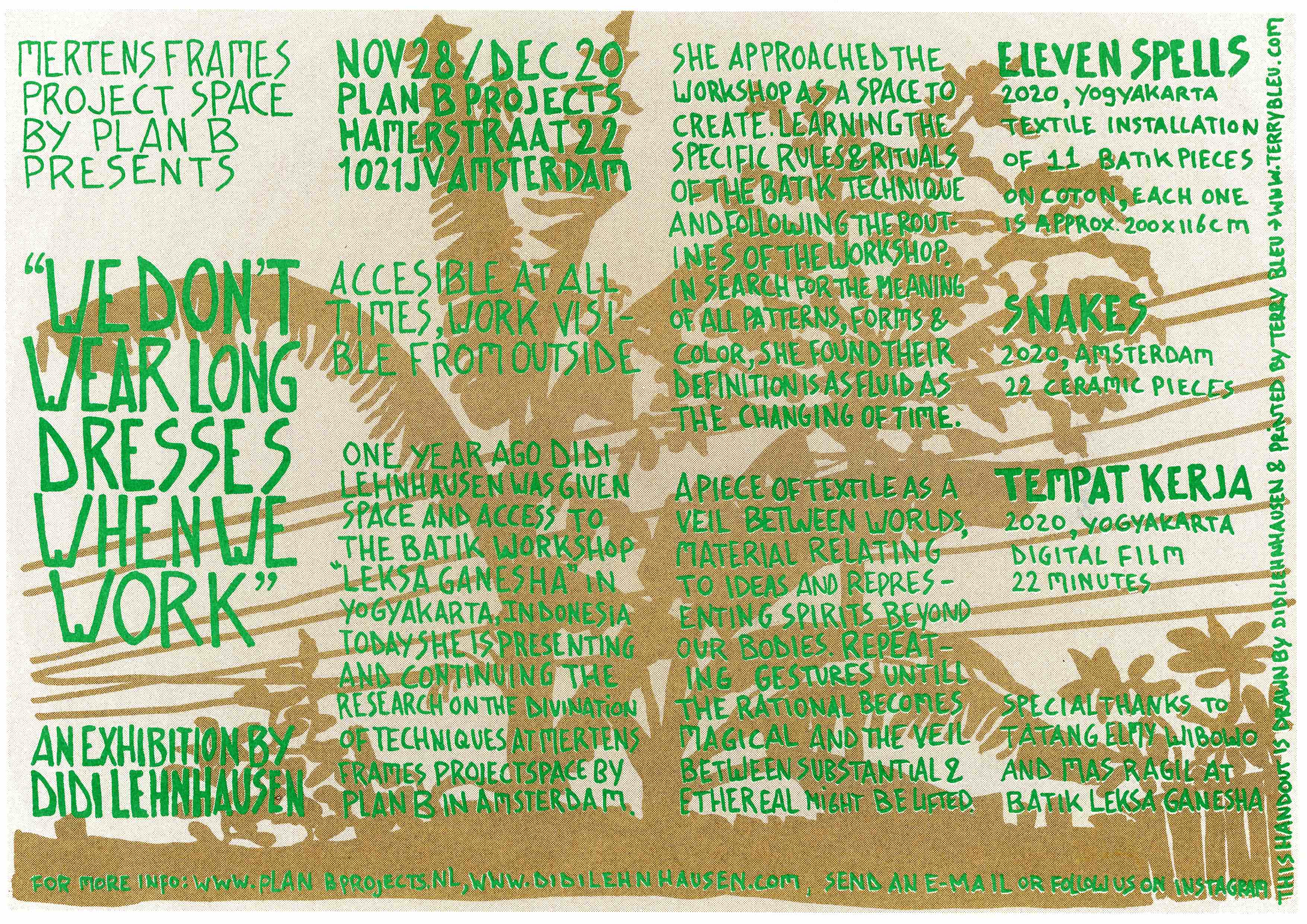 Tempat Kerja

2020, film, 22 min, Yogyakarta/Amsterdam

22 min video presented in the window exhibition "We don't wear long dresses when we work" and in an online screening and talk both presented by Project-space Plan B. For the online event Didi Lehnhausen talked about the context of her work and went into conversation with batik master and owner of Batik Leksa Ganesha, Tatang Elmy Wibowo.
Away to home


2020, super8, vhs video and digital film, 30 min

Seven video-messages, A, B, C, D, E, F, G, recorded and send in the year 2020.

Questions of belonging and place are sounding through the monologue of a seeking voice. The guitar compositions are by Jeske de Blauw

The video-messages were send on WhatsApp and posted on InstagramTV to explore public intimacy and in search of vulnerability within digital realms.

Filmstill from the video's A, C, D
Filmstill from the video's F, G
11 Spells

2020, cotton, dye, wax

A textile installation of 11 pieces on cotton each approx 200x116cm. Made and presented at the batik gallery Batik Leksa Ganesha.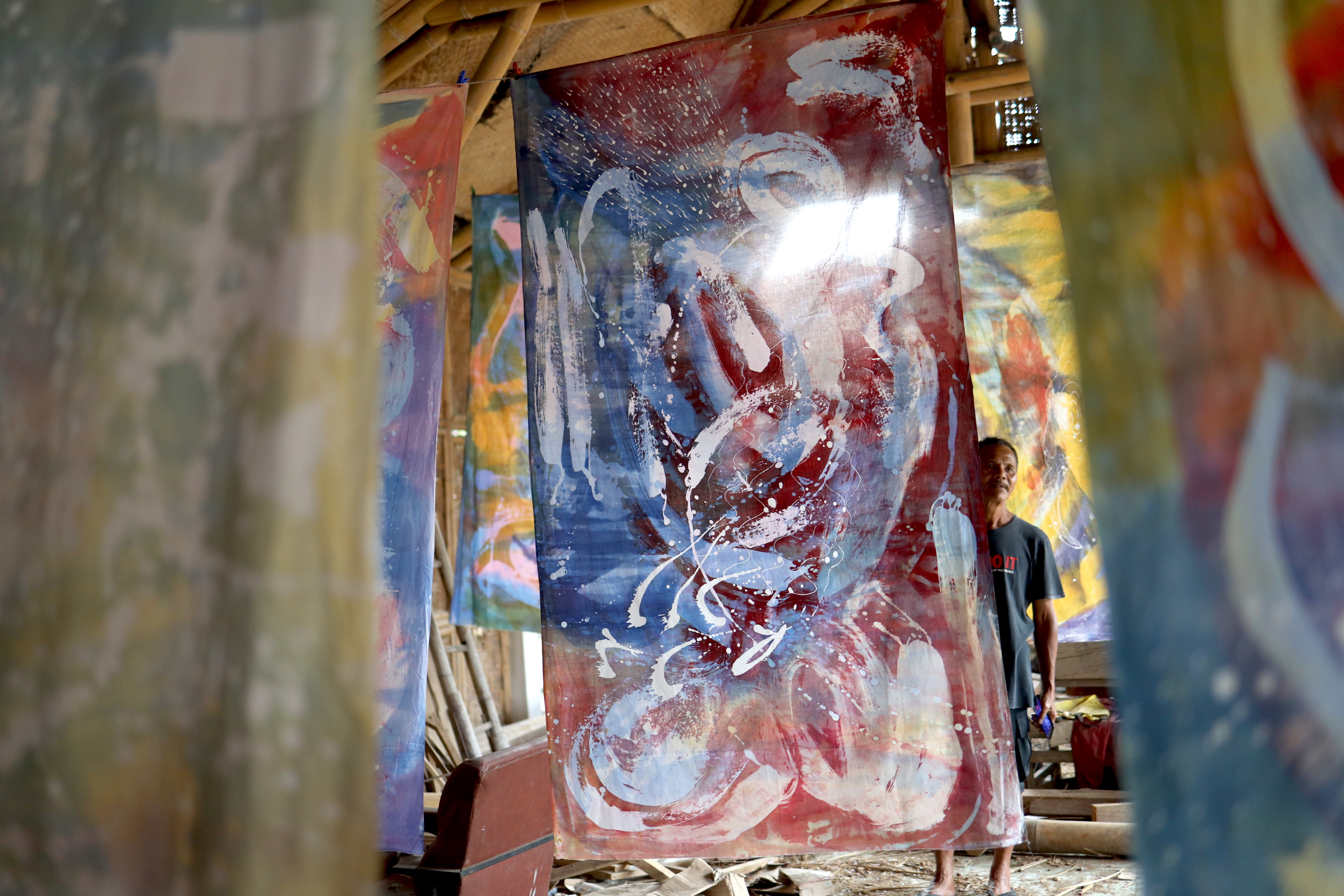 Snakes II

2020, ceramics

22 ceramic snakes. The second ceramic snake family and part of the exhibition "We don't wear long dresses when we work" at Plan B projects.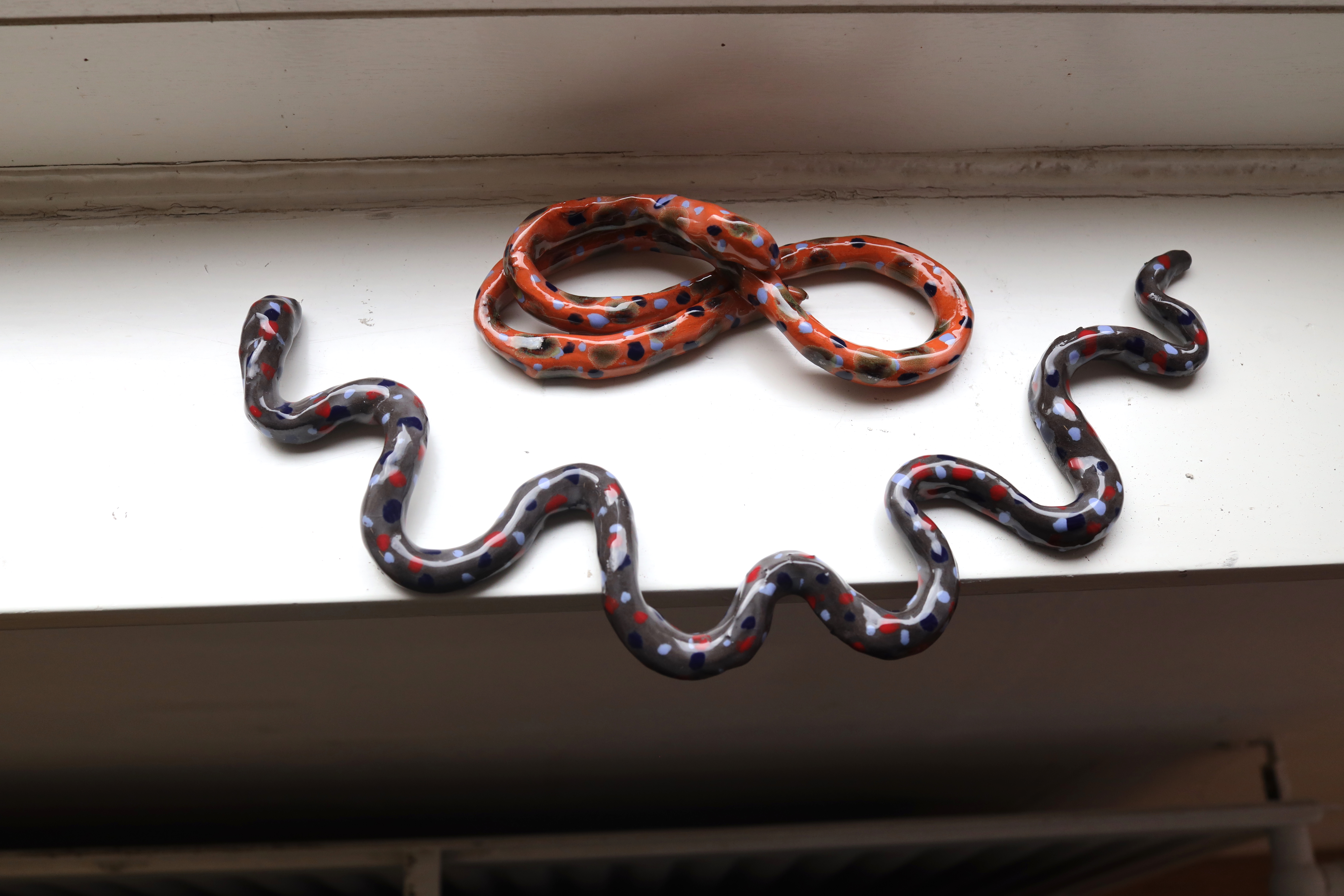 Practicing
Memories
2019, photographic digital print, acryl-glass
Wall installation of 5 prints. The prints are between 60x90cm and 91x150cm. The wall is 12 meters long and 4 meters high. The work was created during a residency period at
Ruang MES56 in Yogyakarta, Indonesia.
The wall installation was presented during the exhibition "Paper Spirits / Soil Mates" in
Nieuw Dakota, Amsterdam
.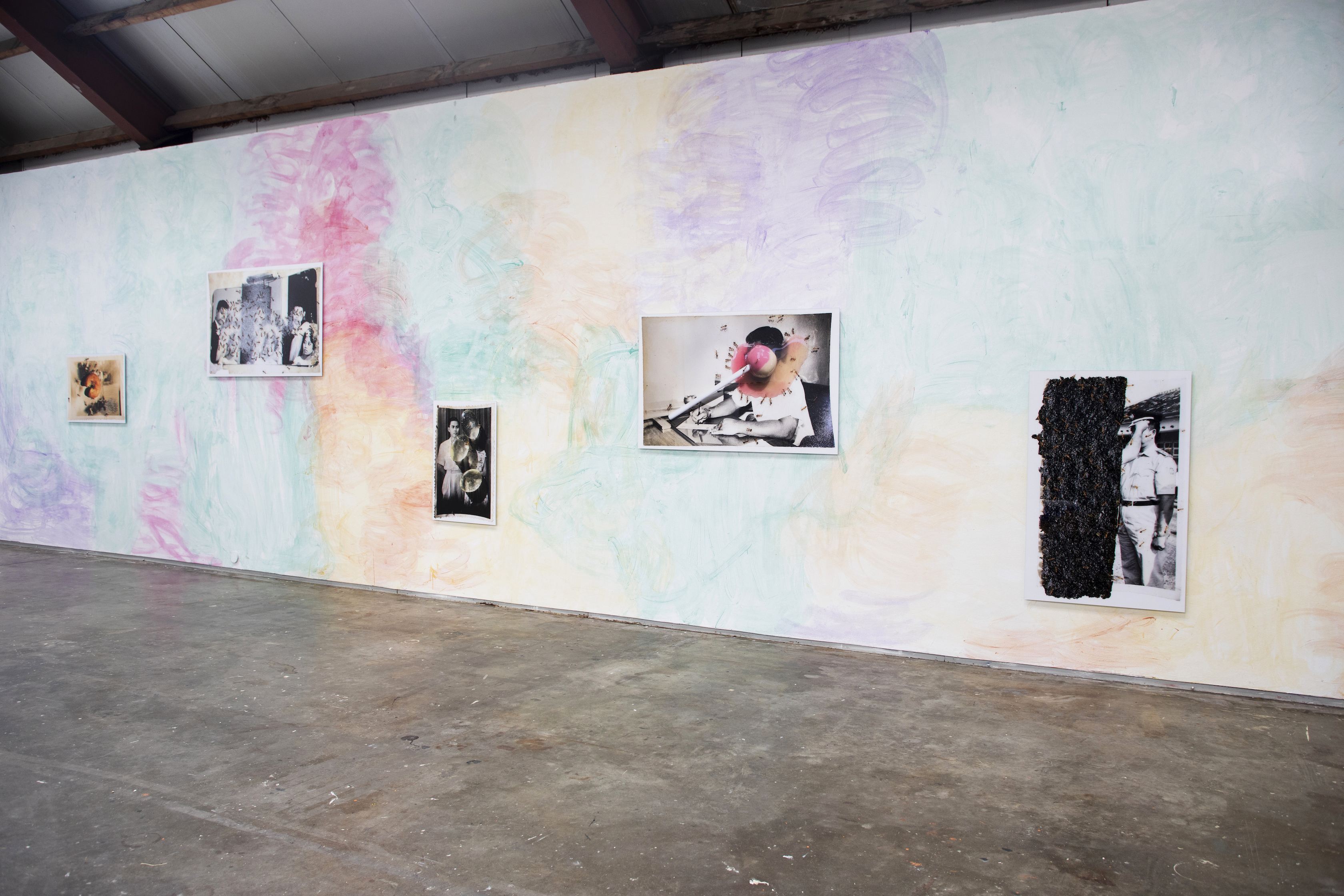 Paper spirits
2019, analog print mounted on alluminium
Seven prints created in printing performance (
see printing traces ︎︎︎
), presented with the exposure video's at
Nieuw Dakota, Amsterdam
Printing Traces
2019, performance, film, analogue prints

Performance in the darkroom, three video's and seven prints. This work is a collaboration with
Afdruk56
, part of the collective
Ruang MES 56
in
Yoygakarta
. Afdruk56 is a project with focus on darkroom techniques and collecting negatives from the 20th century in Indonesia. During the exhibition in Yogyakarta, the making of the prints was presented as a performative act in itself. The visitors could join in to the darkroom and witness the ritual of printing the portraits.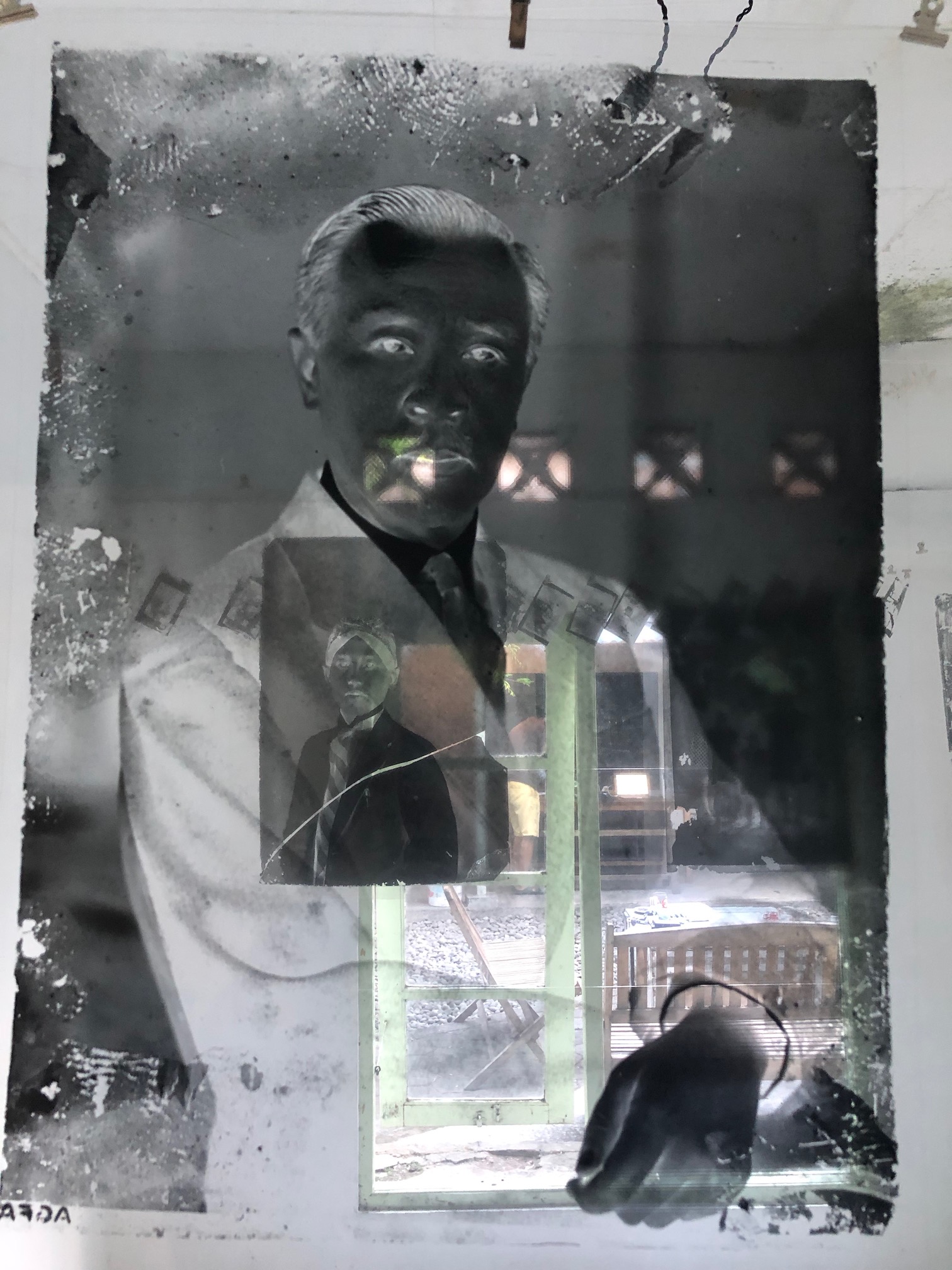 Six lucid sensibilities

2018

An installation of six silkscreen frames in front of lightboxes. The size of one lightbox is 160x120x30cm.

"Six lucid sensibilties" is an installation build with silkscreen frames that are imprinted with photographic images and presented with the residues of silkscreen ink. Made during an artist in residency period at the AGA-lab, Amsterdam.
Six lucid sensibilities @ Art Rotterdam

2018

An installation of six silkscreen frames in front of lightboxes. The size of one lightbox is 160x120x30cm. Presented at Prospects and Concepts in Februari 2019 at Art Rotterdam
Video-essays on a flexible mind

2018 , film and lecture, 60 minutes
A lecture/screening with three 10-minute-long video's, presented within a conversation between Prof. Dr. Jim van Os and Didi Lehnhausen. Each video-essay explores another visual experience. During the talk van Os and Lehnhausen discuss psychoses as a human experience and how it is perveived and treated in western medicine The first lecture and screening was presented at
Prospects & Concepts during Art Rotterdam.
The sequal was presented on a symposium of the GGZ about psychological suffering.
For reasons yet unknown

2018, installation with cyanotypes, anolog silver gelatin prints, found materials.

Installation of seven cyano prints (100x200cm) and a series of small silver gelatine prints. Made during an artist in residence in Itoshima, Japan. In the printing process found materials, brought to the shores by the ocean near the studio, were gathered and used in ritual acts in the studio.


Ten meters of evidence: The print

2017, 10 meter long analog silver gelatin print.

Installation of a ten meter long zilver gelatine print created in a darkroom performance. 1000x127cm. Presented at the Neu/Now festival at the Westergasfabriek in Amsterdam and during Art Basel 2018. The print has also been exhibited at BIG ART 2018 in the Bijlmer Bajes in Amsterdam.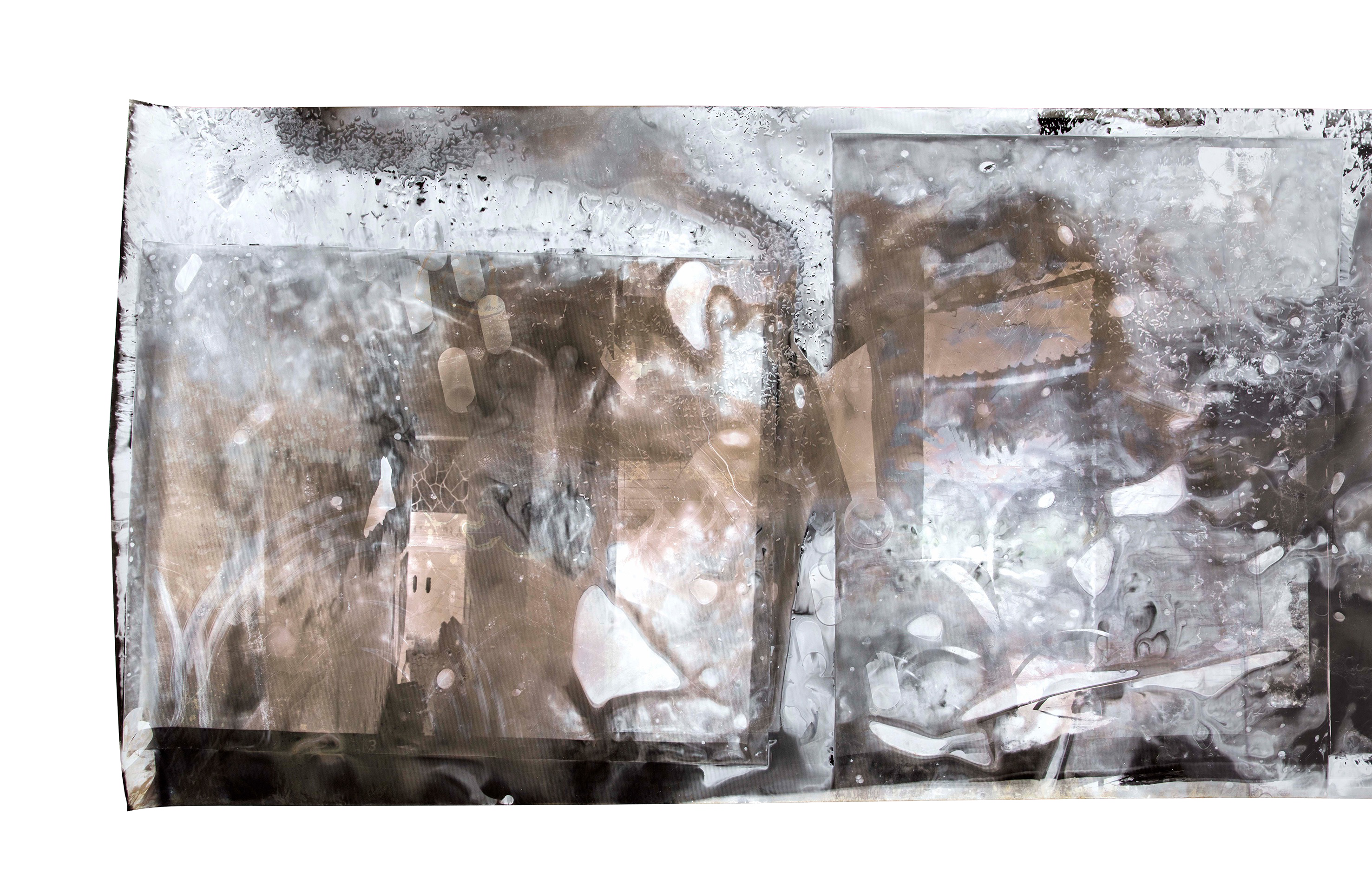 Ten meters of evidence: The choreography

2017, performance, film, light sensitive paper

A choreagraphy in the dark room using negatives, objects, fluids and filmprojections to expose 10 meters of light sensitive paper. The performative act was carried out three times in the Amsterdam Studio's, a total of 30 meters of print was made in the process


Impersonal Portraits

2017, performance, inkjet printer

A performative act resulting in 9 portraits, 100x150cm.

Lehnhausen was invited with two other artists, Suzanne Bernhardt and Johanna Arco, to live and work in the Ruhr Area of Germany for three weeks. Impersonal portraits was made during this working period.
Looking for someone who keeps the roosters alive

2016, installation, silver gelatin prints, wood

Installation of 6 silver gelatin prints, presented in wooden frames. Didi Lehnhausen graduated from Fine Arts at the Gerrit Rietveld Academy with this work and won the Fine Arts prize. Thereafter the work was exhibited in Studio Omstand in Arnhem and the Lumen Travo Gallery in Amsterdam.
Pictures by Gert-Jan van Rooij

© all artworks are by Didi Lehnhausen and may not be published, copied or used without permission.
In the studio in Amsterdam, picture by Carmen Gray, 2018